Here is some of the stuff I got for Christmas!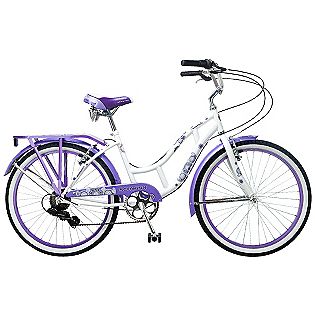 This bike, I love this bike! The bright purple looks so shiny and new:) The seat is comfy and it's really fast. I can't wait for it to be Spring so I can ride it!
This book, as many of you know Jessica Day George is one of my favorite authors! I have read all of her books and this one was just as good! It is a cross between Little Red Riding Hood, The Twelve Dancing Princesses, and Robin Hood. I read it in one day and am now reading it again!
These PJs, these PJs are so cute! I was sad when it was retired but when I got it I was so happy! The slipper/socks look so comfortable and I wish I had my one pair. The snowflakes on the pants add cute detail, too:)
This stuffed animal, I love this stuffed animal sooooooo much!! I named her Lavender:) She is really fluffy and a great reading buddy:)
This Vera Bradley Lap Desk, (sorry no link.) I love the pattern Va Va Bloom and I always hate having to sit on the floor for a hard surface to write on, so this was a great gift! The bottom  is so plush making it easy for your lap:)
This game, I have been playing this game ever since I got it and it is so much fun!!!! I love the little symbols for the dance cards:) My favorite dance of all is to Jailhouse Rock, (by Elvis Presley.)
This iPod, (no link either.) I was really happy when I got an iPod touch! I always borrow my sister's iPod to listen to when I am riding my bike and now I have one of my own! I got a purple case for it which matches my bike, (how cool is that?)
This outfit, my doll Gabby (who is actually shown above) is currently wearing this outfit:) I like it better in person then online, though. The skirt is s fuzzy and soft and the sweater is glittery and cute and is very easy to mix and match but they make an adorable winter outfit together. I'm glad the outfit has leggings because without them the outfit wouldn't look complete. The boots are really cute and are my favorite part!
This Tunic, I love Boden's tunics and this was just as cute as their other ones! It is soft and I really like the neckline, not to mention that it's purple. It will go perfect with my new purple hair bands!
This shirt, (it's also from Boden, but there's no link) I like the cut of this shirt a lot and the roses at the top look so pretty! It's very simple and cute, and I like that the bottom flows out. Again, I love the color!
This TV show season, 
Chuck 
is my all time favorite TV show and I was so sad when it ended last year, (The ending was so sad:( ) so I was glad when I got the fifth season. I have been watching all my favorite episodes from the season and enjoying all the bonus features!
This jump rope,
 FINALLY!!!! I always jump rope at recess with my friends, (I'm not very good…yet) and have been wanting one of my one so I can practice. Now, if only the weather would get warm…
This perfume,
 I don't use perfume very much, but I love all the scents! The Positively Purple Justice perfume smells so good (to me it smells like candy:)) The roller ball at the top tickles but prevents me from spilling the perfume….
This sweater,
  I got this yesterday and I love it! The color is so pretty and bright but it still goes with a lot of things! It's very comfy too, perfect for my first day back to school on Wednesday!
This Top,
 I also got this top yesterday to go with my sweater. I have been wanting it ever since it came out since I play guitar and it's, well, adorable! The stars on the guitar add great detail. I love the polka-dots on the guitar, I mean who wouldn't want a guitar with polka-dots?
These Pajamas, 
 I LOVE these pajamas. They are so comfy and soft, an they are purple!
This CD, 
 I have wanted this CD for a while and I can't wait to upload it to my iPod!
These PJs, 
 I love these adorable PJs the antler headband is so cute and I love the silky pants! The slippers are so fuzzy I'm jealous of my doll…It's perfect for waiting up till midnight!
Bye guys, I'm off to Providence to go to Bright Night!